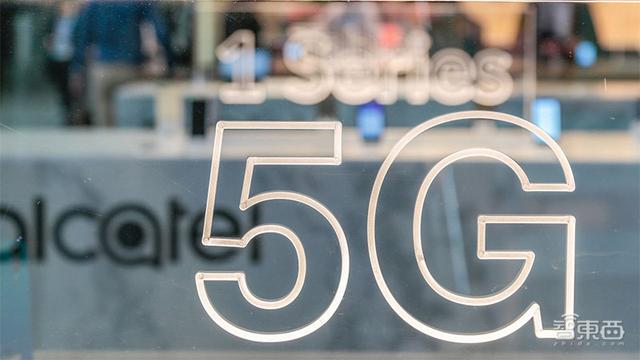 Introduction: Recently, Canalys, a market research company, released a report that the global shipment of 5G smartphones will exceed 4G in 2023, with China ranking first in the world.
Intelligent East and West July 2, Canalys recently released the latest global forecast report for 5G smartphones, which shows that in 2023, the global shipment of 5G smartphones will reach 800 million, accounting for 51.4% of the smartphone market.

It is worth mentioning that China's 5G smartphones will lead the world with 34% shipments, while North America will rank second with 18.8% shipments.

It will take at least four years for 1G and 5G smartphones to ship more than 4G
Recently, at the 2019 World Mobile Communications Conference (MWC) in Shanghai, Canalys, a market research company, released the latest global forecast for 5G smartphones.
According to the report, it will take at least four years for 5G smartphones to be shipped to more than 4G phones, reaching 800 million in 2023, accounting for 51.4% of the global smartphone market. That is to say, 2023 will be an important turning point for 5G smartphones to surpass 4G.
According to Canalys, the data are based on an analysis of the global smartphone market, and its future changes will vary according to the market.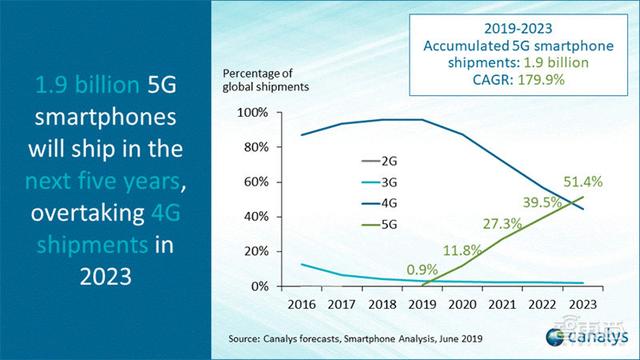 In addition, since the launch of the first batch of 5G smartphones this year, Canalys also predicts that global 5G smartphone shipments will reach 1.9 billion from 2019 to 2030, with an annual composite growth rate of 179.9%.
Although after years of accumulation, 5G finally appeared in the public's vision. However, at present, 5G technology has not become a vigorous outbreak, whether it is the construction of infrastructure or the development of mobile terminals and other equipment.
At the same time, operators are gradually expanding the coverage of 5G in various cities, and promised to cover dozens of cities by the end of this year.

In terms of hardware, early users of 5G smartphones have only one or three models to choose from, and the normal use of 5G smartphones also depends on operators.
This also shows that although 5G is generally considered as the next important mobile trend, this trend will not happen overnight, it will rely on the continuous improvement and development of infrastructure and 5G equipment.
2. China will become the world's largest 5G smartphone market with 34% shipment volume
Regionally, according to Canalys's data report, China will be the world's largest 5G smartphone market by 2023, with shipments expected to account for 34% of the global market.
North America's 5G smartphone shipments rank second, accounting for 18.8% of the market share, while the Asia-Pacific region will rank third with 17.4% of the market share.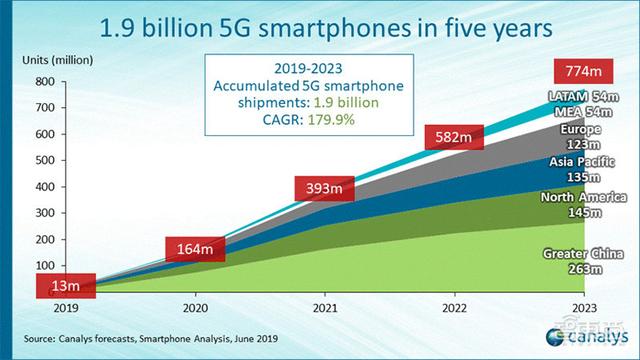 For China, smartphone shipments have been growing steadily and substantially. As early as 2011, smartphone shipments in China surpassed those in the United States and became the largest smartphone market in the world.
Although China's economic development is slowing down and the development of high-end smartphone market is slowing down, China is ready to become an important participant in the global 5G technology competition.
It is worth mentioning that Nicole Peng, vice president of Canalys Mobile, said in a statement that 5G smartphones will also be rapidly popularized in China thanks to the strong technology roadmap of the Chinese government and the financial capabilities of operators.
She also said that China has gathered many major suppliers of 5G devices and smartphones, which will be the driving force for 5G deployment in the coming years.
But Nicole Peng adds that a large market for 5G smartphones does not necessarily mean a successful 5G deployment.

In order to achieve 5G advantage over eMBB (enhanced mobile broadband), the deployment of 5G will take longer, and this is much more complex than previous network generation technologies.
In terms of capital, the deployment of 5G is also very expensive, which will bring more pressure to global operators.
3. Chinese operators invest up to 5 billion US dollars in 5G
In terms of operators, Mojia, an analyst at Canalys, said that this year, Chinese operators will invest 5 billion dollars in 5G and build 50,000 to 70,000 5G base stations nationwide.
Especially in China Mobile, China Unicom and China Telecom, China Mobile will further expand its market advantages by relying on its huge user base and financial strength.
Mojia also said that China Mobile has launched a broader 5G smartphone package. At the same time, in view of the long-awaited mobile number carrying policy issued by the Chinese government some time ago, the three operators will also launch preferential promotions for 5G users in the second half of this year.
At present, local mobile phone brands such as Huawei, OPPO, millet and ZTE are also 5G mobile phone partners of these three operators.
In addition, Samsung is also launching 5G smartphones to compete with China, which Apple will miss.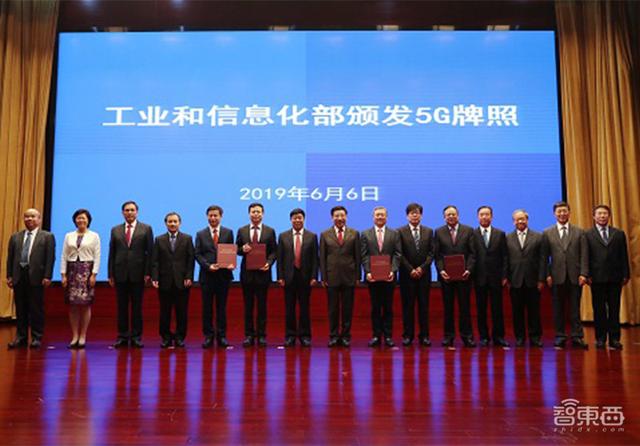 Conclusion: The 5G smartphone market is not yet mature and the competition is intense in the future.
As an important scientific and technological force driving people's life and economic development in the future, the growth and change of 5G market has attracted much attention.
Although 5G technology will bring new technical means to the market, it will further promote the development of interconnection and human-computer interaction. But Canalys's report also shows that the 5G smartphone market is not yet mature in terms of smartphone equipment and infrastructure.
On the one hand, smartphones supporting 5G technology only have a few companies, including Huawei and Samsung. On the other hand, operators are planning 5G pilot projects, 5G signal coverage and further debugging and expansion. It can be seen that the 5G market is waiting for more mobile terminal equipment manufacturers and operators to enter and explore, the future competition will be very fierce.
It is worth expecting that in the future, 5G will bring people not only a faster and more convenient information life, but also a new way of life and experience.

Sources: Canalys, TechCrunch, Smart Things
Special statement:
You are cordially welcome to visit KCI. Please read this legal statement carefully. All your actions on KCI's Website will be considered as accepting the following service agreements: 1. The information and content contained in this website are based on public information, which has not been independently verified. This website is for those who quote public information. Authenticity, accuracy and completeness are not guaranteed. They are for reference only. 2. The articles on this website only represent the author's own views, and have nothing to do with the position of this website. 3. KCI's Website protects intellectual property rights according to law. If we reprint manuscripts, the copyright belongs to the original author. If articles and reports involve or infringe on your rights and interests, please contact us immediately, specify the website and the name of the work, and we will deal with or delete them immediately. 4. The information and content of this website may be changed at any time without further notice.